The Mountain by Luca D'Andrea  Maclehose Press  November 30th 2017
Jeremiah Salinger is a documentary film maker recently withdrawing to the Dolomite Mountains in Italy with his wife and young daughter.  Theirs is a quiet life until Annelise's father, Werner, recalls his days in the local mountain rescue. Seizing on an opportunity to film a new documentary, Jeremiah accompanies them on a rescue only to be the only survivor as their helicopter crashes.
Depression and nightmares haunt Jeremiah after the accident until a trip with his daughter to the Batterclach, a local canyon. It is there that Jeremiah overhears a conversation concerning the brutal killings of three students. The murders remain unsolved and Jeremiah is hell bent on discovering the truth even if that is at the cost of his marriage.
Mountains, three unsolved murders and a character with PTSD all sound like a great mix for a crime novel and I had high expectations especially as the cover claimed it to be an Italian bestseller.
I wasn't quite prepared for how slow paced the novel was and did consider putting the novel to one side at times but much like the main character Jeremiah I persisted.
Jeremiah is a believable and like able character and the author was good at portraying the effects major trauma can have on an individual. His determination to solve the crime created some great drama, although the brutal murders are graphically described and do not make for comfortable reading.
D'Luca is excellent at keeping the reader on their toes as the novel has many twists and turns. We are never quite sure who is telling the truth or who we can believe and just as you think you have guessed the murderer the novel takes off in another tangent. The inclusion of local legends concerning the Batterclach Canyon creates an eerily atmospheric element to the novel and makes a great addition to the story.
There is a myriad of twists and a big twist towards the end that I wasn't expecting.
This is a novel that has all the elements of a great crime novel but has a tendency to get bogged down in places. I also felt it was overly long, with a tendency to go into too much detail which can detract from the story and lessen the tension and drama you expect from a crime novel.
If you can wade  through the detail and persist this is an atmospheric and compelling read.
About the author.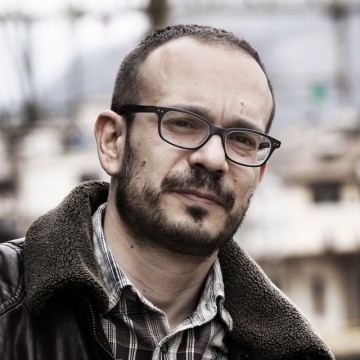 Luca D'Andrea was born in 1979 in Bolzano, Italy. He worked for ten years as a teacher.
The Mountain was the fastest selling book at the 2016 London Book Fair and was sold in more than thirty countries. It is his first novel.