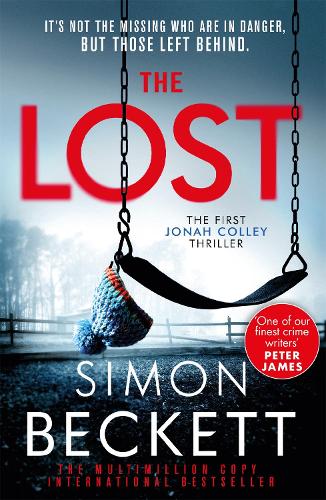 A MISSING CHILD
Ten years ago, the disappearance of firearms police officer Jonah Colley's young son almost destroyed him.
A GRUESOME DISCOVERY
A plea for help from an old friend leads Jonah to Slaughter Quay, and the discovery of four bodies. Brutally attacked and left for dead, he is the only survivor.

A SEARCH FOR THE TRUTH
My Review
Hands up I have never read a Simon Beckett novel but after a shout out from the lovely Tracy Fenton to support Simon after his Twitter incident I knew it was time to step in and help out.
I am so glad I did as I loved The Lost, not least because of the superb narrative from Beckett. His character Jonah was a policeman pushed to his limits, those limits tested in the very first few pages as he wrestled with an unknown attacker, forced to see things no person should. Injured, hurt Beckett piled on even more pressure as two detectives put him at the top of their suspect list.
We knew or at least we thought we did that whatever had occurred wasn't of Jonah's volition yet they didn't and I loved Beckett'a cat and mouse game between them.
Jonah also had to contend with his own personal issues not least the disappearance of his son ten years ago and the realisation that it could be linked to his current predicament.
Beckett wasn't going to tell us anything as he threw Jonah deeper and deeper into a intricate web of drugs, money and trafficking. You could sense the stress emanating from Jonah, you railed at the detectives, at their narrow mindedness, wondered if Beckett would let Jonah survive.
More turmoil ensued, risks taken, bodies found until finally the shocking big reveal. You had an inkling what and who it would be, but all credit to Beckett for keeping you guessing.
I loved the pulsating drama of the final few pages, of the sadness and betrayal that engulfed Jonah. In essence I just loved this thriller and from now onwards will be hugely anticipating the next novel from Simon Beckett.
I would like to thank Orion for a copy of The Lost to read and review and to Compulsive Readers for inviting My Bookish Blogspot to participate in the blogtour.
About the author
Simon Beckett is the No.1 international bestselling author of the David Hunter series: The Chemistry of Death, Written in Bone, Whispers of the Dead, The Calling of the Grave, The Restless Dead and The Scent of Death. His books have been translated into 29 languages, appeared in the Sunday Times top 10 bestseller lists and sold over 10 million copies worldwide. A former freelance journalist, he has written for The Times, Daily Telegraph, Independent on Sunday and Observer. The inspiration for the first David Hunter novel came after a visit to the world-renowned Body Farm in Tennessee introduced him to the work of forensic anthropologists. Joint-winner (with Arne Dahl) of Europe's largest crime fiction prize – the Ripper Award 2018/19 – he has also won the Raymond Chandler Society's Marlowe Award and been short-listed for the CWA Gold Dagger, CWA Dagger in the Library and Theakston's Crime Novel of the Year awards. He is also the author of several stand-alone novels including Stone Bruises and Where There's Smoke. Simon Beckett lives in Sheffield.