The Feed by Nick Clark Windo  Headline January 25th 2018
All you need is The Feed. Accessed by anyone, at anytime. You can share your thoughts , your emotions, you can communicate without actually verbalising what you want to say. It's highly addictive, but not for Tom and Kate. They refuse to absorb it fully into their lives, having a slow day, taking the time to communicate, switch off and enjoy each others company.
But what if the Feed collapses? What if it no longer exists? What will the population do? Even worse what if you are Taken whilst you sleep, if you lose all your memories, your knowledge and your dreams.
Fast forward six years and this is the very situation Tom and Kate find themselves in. The Feed has collapsed, millions are dead or Taken. Small isolated communities have sprung up, forced to scrape an existence, foraging for food to stay alive, watching each other sleep, praying they do not become one of the Taken.
Living with their daughter Bea, Graham and Jane, Sean and his son Jack, Tom and Kate are living a nightmare, a nightmare that's about to get worse when Bea is kidnapped. Setting off on a journey to find their daughter, they will discover the true horrors of the world they currently live in and face decisions that will alter the course of their lives forever.
There is a lot to get your head around at the start of this novel. Firstly is the concept of the Feed, how it works, what it meant for society and its inhabitants, then there is the dark dystopian world Windo portrays when the Feed collapses.  Windo is highly adept at handling the information making it easy for us, the reader, to understand. His descriptions  and imagery are vivid and almost cinematic in places, and at times quite eerily, dark and scary!
The characters, Tom and Kate dominate the novel. It is very much their story, their quest to find their daughter. Other characters play their part in the development of the novel, aiding and abetting with Tom and Kate's quest. I had a particular fondness for Graham, a resister, one who refused to have anything to do with the Feed, determined to live what he believed to be a normal life. The toll that events have on him and the way in which Windo tells his story is quite touching and emotive.
Some readers may find the first half of the novel quite slow, but Windo needs to provide us with background, to build the tension and we hurtle headlong into the fast paced drama of the second half. Tom and Kate have to deal with surprises and revelations as their search becomes more frantic and desperate.
I found myself totally immersed as I raced through the pages, barely drawing breath as Windo bombarded me with yet more amazing imagery. His portrayal of a devastated city will stay with me for a long time, as will the desperation of some of the people Tom and Kate encounter.
In some ways this is a truly terrifying novel. How hooked are we on technology? How much does our everyday life depend on the internet and social media? Where we would be if it crashed? We might not be in such dire straits as Tom and Kate but it would certainly cause a great deal of concern and consternation. Lets hope it doesn't happen and maybe appreciate a little more time without the internet and actually talk to each other!
The Feed is thought provoking and utterly compelling and would translate so well into a TV series or even a movie and I for one would be queuing upto watch.
Thank you to Headline for providing a proof to read and review and Anne Cater for organising and inviting mybookishblogspot on the blogtour.
About the author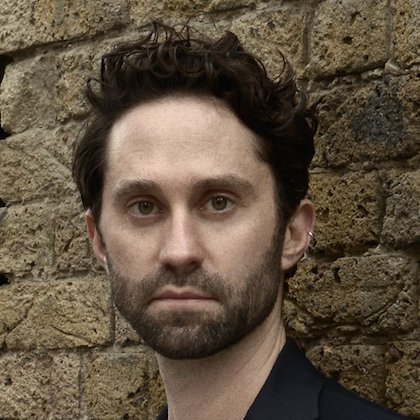 Windo studied English Literature at Cambridge University and acting at RADA.  Windo ia also a film producer and communications coach. He currently lives in London with his wife and daughter. The Feed is his first novel.