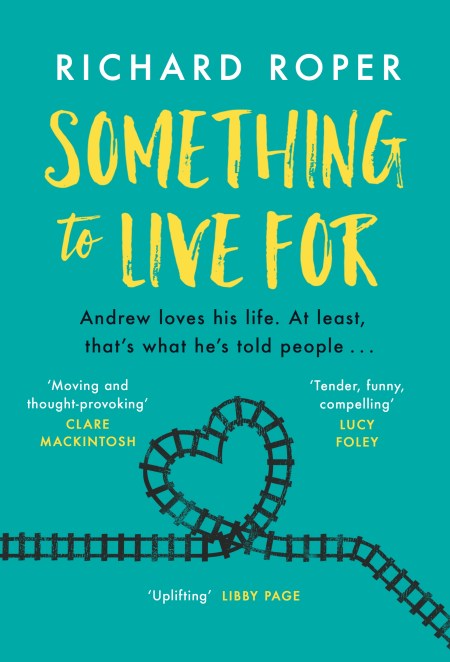 Something To Live For by Richard Roper Orion 26th June 2019
Sometimes you have to risk everything to find your something…
All Andrew wants is to be normal. He has the perfect wife and 2.4 children waiting at home for him after a long day. At least, that's what he's told people.
The truth is, his life isn't exactly as people think and his little white lie is about to catch up with him.
Because in all Andrew's efforts to fit in, he's forgotten one important thing: how to really live. And maybe, it's about time for him to start.
My Review
I've lost count of the number of novels that feature a female protagonist emerging from their shell like life into a new world. It was a refreshing change to read a novel where the protagonist was male and your thoughts immediately leapt to if their emotions, their emergence would be the same as their female counterparts.
There were similarities but somehow it felt different, mainly I think because our natural thoughts are that men are the strong ones, the ones that don't often have those sensitive and needy tendencies. Roper gave us Andrew, a man in his early forties, a council worker with a job that I found utterly fascinating, but essentially a loner, a man more interested in model railways than connecting with other humans.
His job, that of organising and, in his case attending funerals for those who died alone, was perfect for him, almost mirroring his own life. You could see his mind whirl as he looked to the future, would that be him, is that what he wanted? Yet Andrew couldn't change, trapped, reasons hidden deep down, that refused to surface, that Andrew refused to deal with. Roper gave us fleeting glimpses of a past life, little clues, a sister, a love for Ella Fitzgerald, but hate for the song Blue Moon. It pulled you deeper and deeper into Andrew's innermost thoughts, his demons, and all I wanted to do was hug him, tell him it would be ok, that he could recover, live a full fun filled life.
I have to admit that Andrew's unwillingness or even inability to change, to do something about it, made me feel a little frustrated but that frustration slowly dissipated as his story unfolded and as in all things it took something or someone to trigger that want and need to change. Peggy was the perfect foil, the polar opposite, outgoing, funny and such a wonderful character and my imagination as to what she wore, what she looked like went into serious overdrive.
I loved that she didn't care what others thought and that she 'got' Andrew, knew how to tap into his subconscious, to rattle him so much that he couldn't not change. It helped that she had her own issues, but I loved her selflessness, her willingness to help Andrew.
Their relationship was brilliantly portrayed by Roper, its ups and downs both serious and full of humour, but what really made this novel was his ability to understand his characters, to go deep beyond the surface. They all hid sorrow, difficulties, it was all part of normal life but it was how they navigated their issues, how they found solutions or accepted compromise that Roper excelled.
You felt yourself smiling as Andrew slowly found his voice, began to stand up for himself, relax and enjoy everyday life as his confidence slowly soared to new heights. It was the background to the loneliness that got me, that Roper captured beautifully, his narrative emotional and poignant, there were things that I could identify with, could imagine myself in Andrew's shoes, could feel his pain and distress.
For all it's poignancy and emotion Something To Live For for wasn't without humour, moments that made you laugh and grin and perfectly counterbalanced what could have been a dark and sorrowful sorry.
Roper wrote of issues that we could all identify with, the everyday things, the more traumatic aspects that assault our lives at any time. He didn't feel the need to inject some madcap ideals or sensationalise, it was a novel that was very much grounded in ordinary lives and that is what was so endearing about Andrew and Peggy, their colleagues and friends.
It gave me hope that we don't have to be lonely, that there is something or someone out there for everyone, that we don't have to be afraid to take those first steps, and emerge into a brand new world.
I would like to thank Orion for a copy of Something To Live For to read and review and to Tracy Fenton Of Compulsive Readers for inviting My Bookish Blogspot to participate in the blogtour.
About the author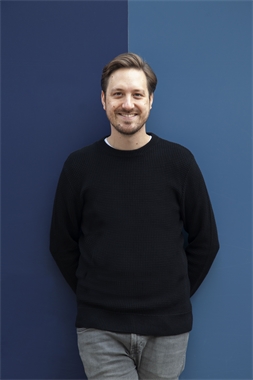 Richard Roper was inspired by an article he read about the council workers who deal with situations when someone dies alone. Their days are spent sifting through the ephemera of those who've slipped through the cracks, searching for clues to a next of kin. Council workers are under no obligation to attend the funerals. Yet they do, sometimes dozens of them a year, just to make sure at least someone is there. Richard Roper lives in London. SOMETHING TO LIVE FOR is his first novel.