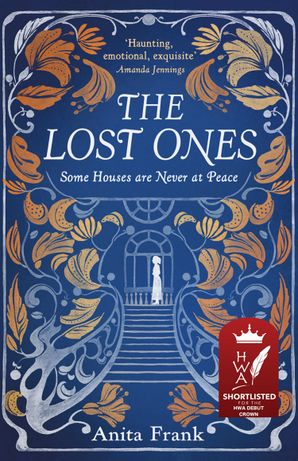 The Lost Ones by Anita Frank HQ 31st October 2019
Some houses are never at peace.
England, 1917
Reeling from the death of her fiancé, Stella Marcham welcomes the opportunity to stay with her pregnant sister, Madeleine, at her imposing country mansion, Greyswick – but she arrives to discover a house of unease and her sister gripped by fear and suspicion.
Before long, strange incidents begin to trouble Stella – sobbing in the night, little footsteps on the stairs – and as events escalate, she finds herself drawn to the tragic history of the house.
Aided by a wounded war veteran, Stella sets about uncovering Greyswick's dark and terrible secrets – secrets the dead whisper from the other side…
My Review
There's something about an old mansion that captures the imagination and its characters. Anita Frank's debut novel The Lost Ones did just that as she took us back to 1917, the First World War still raging, people lost in grief as they mourned those killed in battle. Stella was one of the unlucky, her fiancée dead and her parents wondering why she can't just pull herself together and just get on with it. A lot of the English stiff upper lip was evident, Frank perfectly portraying the attitudes of the time, of the unknown psychology behind grief and loss, the older characters harsh and unsympathetic.
You could only feel huge sorrow for Stella, but as she travelled to Greyswick to stay with her sister, Madeleine, there were smatterings of a woman finally coming to terms with her loss and beginning the journey to recovery.
The strange ghostly happenings she encountered were full of intrigue, the lurking housekeeper Mrs Henge, always behind a corner, as she watched and observed Stella and ghost hunter Tristan.
There was always the feeling that there was something tragic about the events, and I loved the slow unfurling of the house's mysterious history.
You could see Stella grow in confidence, regain her strength and determination to glimpse a world out of her grief and the possibilities of a new life and this, for me, was one of the real highlights of the novel.
When the true events of Greyswick were finally revealed you could not help but feel a sense of shock, of disgust, but also empathy and sorrow.
Franks narrative was wonderful, it immersed you in Greyswick's myriad nooks and crannies, in the chill and eeriness of its past inhabitants.
It was the perfect novel for a cold autumn evening in front of a warm fire and I loved it.
I would like to thank HQ for a copy of The Lost Ones to read and review and to Jo Thomas for inviting My Bookish Blogspot to participate in the Halloween blitz.
About the author
A farmer's daughter from Shropshire, Anita studied English and American History at the University of East Anglia before moving to London to work in media analysis and communications.
She left paid employment to become a stay-at-home mum when she had the first of her three children. Sadly, Anita's youngest child developed a rare form of epilepsy in infancy which has left him severely mentally disabled and she is now his full-time-carer, but she has begun snatching what time she can to pursue her lifelong ambition of writing historical fiction.
Anita now lives in Berkshire with her husband, her two lovely girls and her gorgeous boy, a fluffy cat with an attitude, and a bonkers Welsh Springer Spaniel.