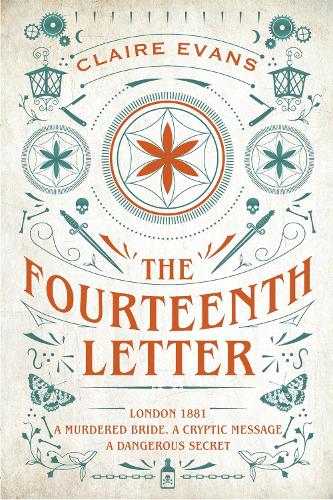 The Fourteenth Letter by Claire Evans Published by Sphere September 21st 2017
Victorian London 1881, and Phoebe Stanbury is on the brink on joining the renowned Raycraft family when a naked figure emerges and slits her throat.
In another part of London lives William Lamb, apprentice solicitor to his guardian Mr Bridge, living with his Aunt who has cared for him since his parents died.
Then we meet Savannah Sheraton, a guntoting American,of Indian origin as she makes her way to the salubrious realm of Whitechapel to meet her employer and demand payment for her work.
In a police staion Detective Inspector Harry Treadway has been given the case of Phoebe Stanbury's murder to try and solve and Vicomtess De Bayeau awaits her brother in the luxury of the Langham Hotel.
The scene is set, and the characters have their roles as Evans unravels a story full of murder, intrigue and mystery.
From the opening paragraph and Phoebe Stanbury's murder this book took you on a rollercoaster of madcap mayhem.
The characters are wonderful. The authors portrayal of Savannah Sheraton, in particular, is just brilliant, a hardened criminal but with a big heart and a huge personality.
At the other extreme is William Lamb, naive, shy and totally unaware of the criminal underworld so prevalent in London.
Evans handling of the plot was excellent, especially as the plot is at times quite complex, but at no point did i feel confused or feel I had to look back to remind myself of various parts. The plot itself is extremely fast paced and action packed leaving little room for the reader to pause and take a breath.
The imagery that Evans uses is a huge part of the novel, from the luxurious rooms of the Vicomtess in the Langham to the labyrinth of streets in the rundown poor parts of London.
There are some serious aspects to the novel and it does pose a few moral and ethical dilemmas, but I would rather not reveal as it would spoil aspects of the plot, you will need to read and discover for yourself. It does not however detract from the novel nor does it seem overbearing.
The novel is not highbrow and nor does it pretend to be it, it just hugely enjoyable, with an awesome cast of characters and a fast moving plot that will entertain and engage. After reading quite a lot of heavy book in recent weeks this was an absolute joy to read.
Thank you to Ella Bowman at Little Brown fro a proof copy to read and review.
About the author
An established business specialist in the UK TV industry, Claire Evans, took a law degree before qualifying as an accountant and found herself working at the BBC. She led the BBC's commercial relationships with the independent production sector and international co-producers.
Claire left to pursue the BBC to pursue a writing career in 2013 and The Fourteenth Letter is her first novel.