The Snakes by Sadie Jones
Family secrets can be deadly…
Newly-weds Dan and Bea decide to escape London. Driving through France in their beaten-up car they anticipate a long lazy summer, worlds away from their ordinary lives.
But their idyll cannot last. Stopping off to see Bea's brother at his crumbling hotel, the trio are joined unexpectedly by Bea's ultra-wealthy parents. Dan has never understood Bea's deep discomfort around them but living together in such close proximity he begins to sense something is very wrong.
Just as tensions reach breaking point, brutal tragedy strikes, exposing decades of secrets and silence that threaten to destroy them all.
My Review
A fractured family, a couple attempting to wade their way through the dynamics of that family with consequences non could foresee made for a novel that surprised.
It was a novel I wasn't expecting, definitely not your run of the mill family drama. It all started off so innocently, so full of excitement at an adventure ahead, as husband and wife Bea and Dan set off on their extended holiday.
There were a couple of opposites, from different sides of the social and financial spectrum. Bea, a privileged background of wealth, private education, who railed against all that it stood for, of a family she wanted nothing to do with.
Dan, mixed race, the product of a single family, from the less salubrious parts of London. His knowledge of his wife's family wealth hidden so well by Bea as they scrimped and saved, reliant on their own jobs and salaries.
Their arrival at Bea's brothers French hotel, his manic behaviour, his obvious fragile state of mind, followed by the arrival of their parents Griff and Liv and a traumatic tragic event saw Jones skilfully dissect the psychology of their beliefs and behaviours.
Secrets long hidden emerged, Bea bitter, traumatised by childhood memories, was forced to reconsider her moral stance on wealth, on what a reluctance to take advantage of her trust fund might mean for her marriage. Dan dazzled by the money, a chance to banish the poverty he came from, the freedom and opportunity it promised.
How would this young couple navigate those moral dilemmas, would their marriage survive the as money threatened to divide and ultimately conquer?
You were never sure what the outcome would be, as suddenly Jones changed tack, crime, murder, thrown into the mix, the classic case of who did it, but with an intelligence and depth, that drew you in and mesmerised.
I loved how Jones seemed to exaggerate her characters behaviours as the stakes became higher, as the real truth emerged, Liv almost manic, Griff, calculated and cold, out to protect himself, his name and his wealth.
You felt Bea was the only one true to herself, until she too began to question what her money could do, the compromise she could achieve with Dan, the good that she could do.
Jones lulled you into a false sense of security, you believed all would be well until the killer punch, the whole novel blown apart. You almost wanted to read behind half closed hands as events spiralled, the ending shocking, surprising, brilliant.
The Snakes was clever, intelligent, multi dimensional and the best thing Sadie Jones has written. Absolutely superb.
I would like to thank Penguin Uk for a copy of The Snakes to read and review and to Anne Cater of Random Things Tours for inviting My Bookish Blogspot to participate in the blogtour.
About the author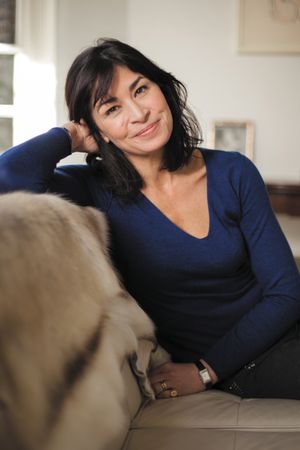 Sadie Jones (Author) Sadie Jones is a novelist and screenwriter. Her first novel, The Outcast ('Devastatingly good', Daily Mail) won the Costa First Novel Award in 2008 and was shortlisted for the Orange Prize. It was also a Richard and Judy Summer Reads number one bestseller and adapted for BBC Television. Her second novel, Small Wars ('Outstanding', The Times; 'One of the best books about the English at war ever', Joel Morris), was published in 2009, and longlisted for the Orange Prize. Her third, in 2012, was The Uninvited Guests ('A shimmering comedy of manners and disturbing commentary on class… a brilliant novel', Ann Patchett) followed by Fallout in 2014 ('Intoxicating and immersive', The Sunday Times).