The Reunion by Guillaume Musso
WELCOME TO THE SCHOOL REUNION FROM HELL
FRENCH RIVIERA, WINTER 1992
On a freezing night, as her high school campus is engulfed by a snowstorm, 19-year-old Vinca Rockwell runs away with Alexis, her philosophy teacher.
No one will ever see them again.
FRENCH RIVIERA, SPRING 2017
Formerly inseparable, Thomas, Maxime and Fanny – Vinca's best friends – have not spoken in twenty-five years. But when they receive an invitation to their school's anniversary reunion, they know they must go back one final time.
Because there is a body buried in that building…
…and they're the ones who put it there.
My Review
School reunions, an opportunity to catch up, see how people have grown, changed and what direction their lives have taken. Most of us would look forward to it but not Thomas, as he prepared to enter a lions den of past emotions and secrets.
Musso gave us everything, from unrequited love, murder, and a tangled web of secrets and intrigue.
The characters all had diverse backgrounds, which made for a heady mix of the have and the have nots. It didn't just centre around the students, as teachers and parents were drawn in, and you never knew who was telling the truth, who was hiding, reluctant to come forward to admit past mistakes.
For Thomas it was about reconciliation, coming to terms with a love that was mired in illusion, blinkered with devastating consequences, as Musso showed how we can literally be blinded by love. He gave us the mythical Vinca, the girl who men swarmed around likes flies, a woman who seemed lost, and confused, unaware of the chaos she created.
You thought it was a simple crime of passion but oh no Musso pulled out all the stops, the intrigue thick and at times impenetrable, the reader never knowing who or what would happen next, which avenue to take. It gave the novel that great feeling of tension and suspense the latter pages full of pulsating drama and surprise. You felt satisfied that all was resolved until Musso threw in a curve ball, one full of relief and a feeling of closure for Thomas and his friends.
If the plot twists and turns were good then the beautiful descriptions of the Cote D'Azur were equally splendid. An area full of the wealthy, a landscape that could be beautiful as well as dangerous. It was perfectly befitting of its characters and the story, the normality of life mixed with the criminal underworld, politics and tabloid journalism.
Apparently Musso is a bestselling author in his native France and it was not hard to see why. Captivating, enthralling and a fantastic read, The Reunion was a top notch thriller and I cannot wait to read more.
I would like to thank WN Books for a copy of The Reunion to read and review and to Tracy Fenton of Compulsive Readers to read and review.
About the author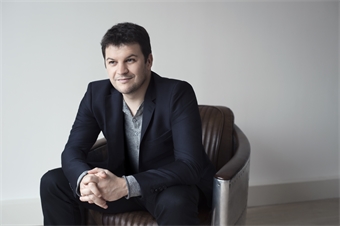 Guillaume Musso is the #1 bestselling author in France, and his novels have been translated in forty languages and have sold over 33 million copies worldwide. He was born in Antibes, South of France, and currently lives in Paris.