The River by Peter Heller by Weidenfeld and Nicolson May 16th May 2019
TWO FRIENDS
Wynn and Jack have been best friends since their first day of college, brought together by their shared love of books and the great outdoors.
THE ADVENTURE OF A LIFETIME 
When they decide to take time off university and canoe down the Maskwa River in northern Canada, they anticipate the ultimate wilderness experience. 
No phones. No fellow travellers. No going back. 
A HELLISH RIDE
But as a raging wildfire starts to make its way towards them, their expedition becomes a desperate race for survival. And when a man suddenly appears, claiming his wife has vanished, the fight against nature's destructive power becomes a much deadlier game of cat and mouse.
My Review
Nature at its best is beautiful, cleansing and awe inspiring, but what if it turned against us and unleashed its power putting our lives in danger? What if you added in the human element, a race to save yourselves, not only from nature but those intent on making sure you didn't survive? It would certainly make a great novel and that is exactly what Peter Heller did with his novel, The River.
Two friends Jack and Wynn kayaked down a river, the smell of a huge fire lingered in the air, in the background, a distant worry, that somehow didn't seem to faze them. Two young men brought up living the outdoor life, both capable, each with their own strengths and weaknesses, that complemented each other, made them a great team.
Jack, practical, level headed, a realist, the constant. Wynn, the optimist, the more wistful of the two, always prepared to see the good in everyone. I loved the little glimpses that Heller gave us of their upbringing, a way to explain their actions as events slowly unfolded.
The River was definitely not fast paced but had an unerring tension about it, that built slowly, the rapids and calmness of the river perfectly matched the unravelling of events, of Wynn and Jacks ups and downs, as they fought for their survival.
What stood out, what made this novel so brilliant was Heller's descriptive prose. Somehow through the vividness of his words you couldn't help be be there with Jack and Wynn, you felt the strong currents of the rapids, the still calmness. as they floated down the river, and the ever present smell of the raging fire. Heller also gave a real sense of the beauty of what surrounded them, the animals, the birds, the bold eagle circling, hunting for prey, a sense of isolation, of peaceful solitude away from the stress of every day life. It was almost, as if through Jack and Wynn he was telling us to appreciate what we have around us, and  the people that are in our lives, certainly something that you could see Jack and Wynn knew would never take for granted again.
The sense of anticipation of what would happen next was never far away, danger lurked behind the next bend in the river or the next camp they made. I could feel Jack's growing desperation and nervousness, his frustration with Wynn, yet the bond between them never wavered, their belief in each other strong.
The latter parts of the novel were suspenseful and fast and I wasn't sure just how Heller would bring it to its conclusion. When he did, it wasn't what I expected yet it was poignant, evocative and an apt and perfect conclusion to a wonderful novel.
The River was a wonderful, evocative story of the power of nature and friendship, and its was a truly awe inspiring read.
I would like to thank Weidenfeld and Nicholson for a copy of The Ricer to read and review and to Tracy Fenton of Compulsive Readers for inviting My Bookish Blogspot to participate in the blogtour.
About the author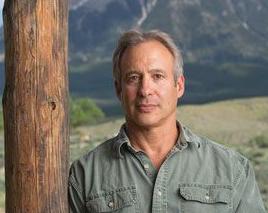 PETER HELLER is an award-winning adventure writer and the author of four bestselling novels, including the New York Times bestseller THE DOG STARS, a Guardian, San Francisco Chronicle and Atlantic Book of the Year. Born and raised in New York, he attended Dartmouth College in New Hampshire where he became an outdoorsman and white-water kayaker. He has travelled the world as an expedition kayaker, writing about challenging descents in the Pamirs, the Tien Shan mountains, the Caucuses, Central America and Peru. He is a graduate of the Iowa Writers' Workshop, where he received an MFA in fiction and poetry, and won a Michener fellowship for his epic poem 'The Psalms of Malvine'.