Yesterday by Felicia Yap Wildfire Books August 10th 2017
Are you Mono or Duo? Confused?? I was when I embarked on one the most anticipated novels of the year. The confusion didn't last long before I was drawn in and totally hooked on this unique thriller.
So, what is mono and duo? Mono and duo relates to your memory and your capacity to remember. If you are mono, you remember everything that happened in the last 24 hours, if you are duo 48 hours.  Individuals are required to keep idiaries to record their daily life and to allow them to remember past 24 or 48 hours. Duo's are considered the elite within society, mono's with their capacity to remember less, are often thought of as less intelligent and treated as mere second class citizens.
All this is a little complicated when it comes to solving a murder and as the blurb on the book says 'how do you solve a murder when you can only remember yesterday'
That is exactly what police officer, Hans must do when the body of a woman is pulled from the River Cam in Cambridge.
Racing against time Hans sets himself the target of solving the murder in 24 hours, not easy when the main suspect is a high profile novelist and would be MP.
Meet Mark and Claire Evans. Supposedly happily married for the last 20 plus years, defying the odds that mixed mono, duo marriages can work, Mark is duo, Claire mono. Claire suffers from depression, and Mark is growing increasingly indifferent to Claire and their relationship and when it emerges he had an affair with the dead woman and is the prime murder suspect their relationship is plunged into complete disarray.
The body in the Cam is named as Sophie Ayling, a duo, a mysterious figure, with secrets.
Told from the perspective from Mark, Claire, Chief Inspector Hans and Sophie their pasts and what binds them altogether is slowly revealed.
This novel is clever, very clever, portraying a society ruled by idiaries, and a reliance on technology to document every part of a persons life. Yap is particularly adept at showing the effects it has on each of the characters, mono Hans racing to solve the crime before his memory disappears, and Sophie with her upper class duo mentality pouring scorn on those who are mono.
Sophie herself, is certainly the most interesting of all the characters and Yap is excellent at creating an air of mystery around her, slowly unveiling little bits of information to keep the reader hooked.
I occasionally got annoyed with Claire, finding her inability to deal with the situation a little tedious at times, but I guess this is perhaps how the author wanted us to feel. The authors use of Claire and Mark's relationship to highlight the inequalties between mono and duos was very cleverly done.  Mark always having the upper hand, Claire a little downtrodden until events force them to reexamine who they are as individuals and as a couple
The plot line twists and turns and the reader is never sure just who is guilty, who is telling the truth and who is lying. There is a twist towards the end that adds just that little extra!
Whilst it took me a while to get my head around the whole mono, duo theme this book is clever, engaging and enthralling. It is unique within its genre and a real breath of fresh air.
I would highly recommend yo read it!
Thank you to Wildfire and Netgalley for the opportunity to read and review.
About the author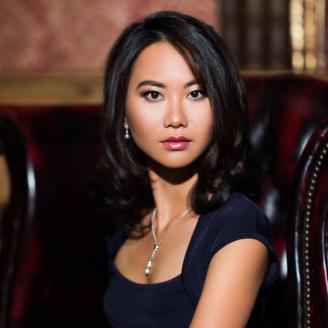 Felicia Yap grew up in Kuala Lumpar. She attended Imperial College London studying Biochemistry before gaining her doctorate at Cambridge University. Yap is also an accomplished ballroom dancer.
Currently residing in London Yesterday is her debut novel.