The Blurb
It's 1996, summer is coming, and eleven-year-old Fiona Larson is determined to make this her best year yet…
The Fair is the only good thing that happens every year. And Fiona Larson is the only person in town who's never been.
She's pretended to go – but she's never been allowed. Because, before Fiona was even born, her sister died there.
This year, everything will be different.
Fiona is about to turn twelve – older than her sister was. This summer, Fiona will save some money, make new friends, and finally have some fun at The Fair.
But what she'll actually do is:
– Find a mysterious bag in a bush
– Spy on everyone
– Lose her only friend
– Make a lot of lists
– Learn the truth about what happened at The Fair…
My Review
You couldn't help but fall in love with Fiona Larson, a quirky eleven year old who only wanted to go to the local fair but her sister who died there meant her parents flatly refused to let her attend. Why? That was a question Hulse had us guessing throughout and Fiona was determined to find out.
We read as Fiona navigated the halls of secondary school, of never quite fitting in, her naivety at times funny, her best friend Lewis her sometime accomplice. Their discovery of porn magazines and consequent sale at a car boat was genius, funny but with a serious aspect, to get the money to go to the fair.
Hulse made us rail against her parents, Danielle's bedroom pristine, intact, never to be touched, the reason for her death something never to be spoken off. You understood their need to protect Fiona, but more than anything you felt Fiona deserved the truth. You sensed Fiona's desperation as she hit constant obstacles but Hulse wasn't going to let Fiona give in, the need to fit in, to confront retired journalists, her behaviour became more and more quirky as the day of the fair grew closer and closer.
You could almost say Hulse was spinning us around on the waltzers as we and Fiona became more and more confused until suddenly we stopped and the truth slipped out. It wasn't what we were expecting, and that made it all the more sad and poignant and I'm glad Hulse didn't take another tack as I felt it would have spoilt the feel of the novel.
All The Fun Of The Fair was a wonderfully light hearted look at grief, of not fitting in, of naivety, of growing up, and of the wonderful Fiona Larson and I loved it.
I would like to thank Orion for a copy of All The Fun Of The Fair to read and review and to Random Things Tours for inviting My Bookish Blogspot to participate in the blogtour.
About the author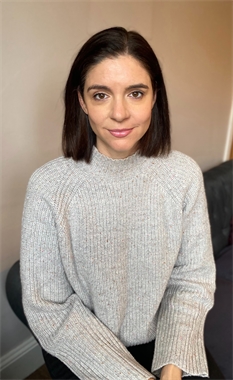 Caroline Hulse lives in Manchester with her husband and a small controlling dog. Her books have been published in fourteen languages and optioned for television. All The Fun of The Fairis her third novel.