The Blurb
Detective Sergeant Washington Poe is in court, fighting eviction from his beloved and isolated croft, when he is summoned to a backstreet brothel in Carlisle where a man has been beaten to death with a baseball bat. Poe is confused – he hunts serial killers and this appears to be a straightforward murder-by-pimp – but his attendance was requested personally, by the kind of people who prefer to remain in the shadows.
As Poe and the socially awkward programmer Tilly Bradshaw delve deeper into the case, they are faced with seemingly unanswerable questions: despite being heavily vetted for a high-profile job, why does nothing in the victim's background check out? Why was a small ornament left at the murder scene – and why did someone on the investigation team steal it? And what is the connection to a flawlessly executed bank heist three years earlier, a heist where nothing was taken . . .
My Review
When you know Washington Poe and Tilly Bradshaw are due for another outing there is that wave of anticipation as you wait to be invited onto the blogtour, get accepted and then the excitement when the book finally hits the door mat.
You never know where or what Craven will conjure up for them but there is always the certainty it will be damn good.
Dead Ground was no exception, yet this time it was different, it felt like a step away from the gruesomeness we would normally expect. Yes there was a murder or two but it felt more considered, in depth and definitely more complex.
The research was meticulous, Cravens knowledge of the military, police procedure, MI5, Al Qaida and Isis was a powerful tool he used brilliantly. It never swamped or drowned out the story but showed the hard work and determination Poe and Tilly needed to crack the investigation.
And what of the investigation? At first I wasn't quite sure exactly where Craven was heading, the opening chapter almost comical as he plunged multiple James Bonds into a bank heist. Next stop a dead body in a brothel and an enamel rat. Throw in feisty American FBI agent Melody Lee and MI5 officer Hannah Finch and you knew Poe and Tilly had their hands full.
I was pleased to see that Poe had lost none of his grumpy, no nonsense manner, a man who didn't mince his words, knew his limitations and cut through red tape with what felt like a knife. Tilly was also at her absolute best, and Craven has done a wonderful job developing her character, the rough edges still visible but none of her tenacity and intelligence diluted
Tilly and Poe struggled, almost felt defeated as Craven upped the complexity, a myriad of layers, people, subterfuge as the horrifying tragedy and selfishness of conflict and war emerged. It was tense and utterly enthralling, and a tad frustrating as Poe and Tilly met dead ends, obstacles and people that stood in their way.
But hey, this was Washington Poe and Tilly Bradshaw, the dream team, the team that are almost invincible, that don't care for procedure, only for truth and justice. Now Craven may have less blood and gore but that didn't stop him giving us his trademark dramatic and tense ending, the final pieces of the jigsaw finally in place and the true culprits revealed.
It may have been a departure for Craven but it was a welcome one, one that showcased Craven's diversity, skill and technique. The relationship of respect and deep friendship between Poe and Tilly was further cemented, Poe's vulnerability and search for the truth of his parentage again questioned and his search for answers seemed to be a little closer.
I cannot wait for the next instalment ans I do hope it will not be a long wait.
I would like to thank Little Brown for a copy of Dead Ground to read and review and for inviting My Bookish Blogspot to participate in the blogtour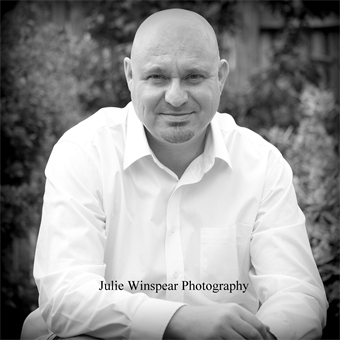 M. W. Craven was born in Carlisle but grew up in Newcastle, returning after 31 years to take up a probation officer position in Whitehaven, eventually working his way up to chief officer grade. Sixteen years later he took the plunge, accepted redundancy and became a full-time author. He now has entirely different motivations for trying to get inside the minds of criminals. His first novel featuring Washington Poe and Tilly Bradshaw, The Puppet Show, was published by Constable to huge acclaim, and it has since won the CWA Gold Dagger Award and been shortlisted for the Amazon Publishing Readers' Awards: Best Crime Novel, the Goldsboro Glass Bell Award and the Dead Good Reader Awards. M. W. Craven lives in Carlisle with his wife, Joanne. When he isn't out with his springer spaniel, or talking nonsense in the pub, he can usually be found at punk gigs and writing festivals up and down the country.