The Blurb
Bookseller Paula has lost a child, and a husband. Where will she find her happiness? Fiercely independent Judith thinks more of horses than men, but that doesn't stop her looking for love online. Brida is a writer with no time to write, until she faces a choice between her work and her family. Abandoned by the "perfect" man, Malika struggles for recognition from her parents. Her sister Jorinde, anactor, is pregnant for a third time, but how can she provide for her family alone?
Love in Five Acts explores what is left to five women when they have fulfilled their roles as wives, mothers, friends, lovers, sisters and daughters. As teenagers they experienced the fall of the Berlin Wall, but freedom brings with it another form of pressure: the pressure of choice.
Punchy and entirely of the moment, Love in Five Acts engages head-on with what it is to be a woman in the twenty-first century.
Translated from the German by Jamie Bulloch
My Review
Love In Five Acts was one of those novels that worked on so many levels, it mesmerised, asked questions and brilliantly picked apart the lives of its five female protagonists.
Krien started with Paula, separated with one child caught between grief and the pitfalls of a new relationship. She took us back to the beginning to her relationship with ex-husband Ludger, their meeting, their marriage and their foray into parenthood. It seemed happy and full of potential until Krien made us look more closely as Ludger became dominate, as his opinions and decisions took over. It wasn't until the death of their second child that it all fell apart, both grieving in differing ways, the pain tangible within Krien's wonderful narrative. For many such a trauma would bring a couple together for others it drives them apart, each left to pick up the pieces in their own way. They seemed to be only one way Paula and Ludger could go, yet Krien left you with a sense of hope and a way forward.
Paula's story was the one that seemed to linger with me because of its emotive content but that wasn't to say that the four other women were not as good as they were, just different. I think that they represented the more common threads of love prevalent within society. There was Judith, the GP, the common thread, the one who knew all the other four women, the one who saw the other four women struggle with their own love lives. Was it a lesson to her, or did she crave some aspect of what they had. I found her quite selfish, stern, as she searched online for the one, and I was never sure what she was actually looking for, but I guess that was Krien's point as she made Judith trawl the online dating sites.
For Brida it was coming to terms with ex husband Gotz's new love, the idea that they could all get on for the sake of the children. Krein made her question how she could manage without him, made her look back with anguish at her failed marriage before the mist appeared to clear and a sereneness descended, an acceptance.
Malika was the woman left behind, the professional musician who had to live with rejection not only from the man she loved but her parents, then her sister Jorinde, the actress split between being a parent and pursuing the job she loved. I loved how they found a way to support each other to find some comfort and indeed a way to find individual happiness by working together.
I recognised some aspect of my own marriage and love life in all five of Krien's women, that search for your soul mate, the perfect partner followed by marriage and children. I too have had to deal with divorce, the blended families, the foray into the online dating world, the rejection before eventually finding peace and solace in the fact that I don't necessarily need a man to make me happy or even complete. Krien made it ok for us to reject the social norm or conform to what is expected, that it was upto to us as strong vibrant women to do as we please. Her observations, her understanding were brilliant and the skill in turning that into a novel that had such variety and depth was truly admiral.
I would like to thank Quercus for copy of Love In Five Acts to read and review and to Milly Reid for inviting My Bookish Blogspot to read and review.
About the author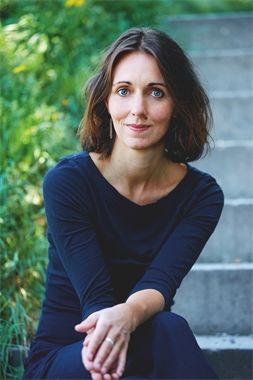 Daniela Krien was born in 1975 in Mecklenburg-Vorpommern, then in the G.D.R. Her first novel, Someday We'll Tell Each Other Everything, was published in English in 2013 (MacLehose Press) and in fourteen other languages. For a subsequent volume of short stories, Muldental, she was awarded the Nicolaus Born Prize. Love in Five Acts has been sold for translation into twenty languages. She lives in Leipzig with her two daughters.