The Blurb
Welcome to The Island.
Where your worst fears are about to come true…
It was supposed to be the perfect holiday: a week-long trip for six teenage friends on a remote tropical island.
But when their guide dies of a stroke leaving them stranded, the trip of a lifetime turns into a nightmare.
Because someone on the island knows each of the group's worst fears. And one by one, they're becoming a reality.
Seven days in paradise. A deadly secret.
Who will make it off the island alive?
My Review
A disparate group of teenagers, an island off Thailand and a week of survival training, what could possibly go wrong? What started as great adventure soon became a clash of personalities, and a battle just to survive. Even before they set off Taylor made no bones about the unsettling undercurrent that simmered between all six of them. Jessie and Danny were our voices, our eyes and ears as they observed interactions between the six, that instigated and indeed watched as the tumultous events unfolded.
Taylor gave Jessie an edge, almost without emotion as she blocked her brothers death, who refused to feel anything for fear of opening up to more hurt and disappointment. It was an edge that you wanted to rub smooth, yet it gave her the strength to deal with their predicament, to make decisions that often rubbed against the others.
Danny was the confident brash one, his love for Honor all consuming, and as the novel progressed, Taylor gave us glimpses of a lost teenager, one who blocked out past events, whose mind seemed to stray and wander to places that could lead to ultimate disaster.
I loved the power play that existed between Danny and Jeffers, Danny's unwillingness to heed Jeffer's survivalist skills, to go his own way, his misleading need to protect what he held most dear.
Each of the six teenagers all had their woes, their crutches, that Taylor explored to great effect. She magnified their fears, created division and unrest that left us feeling uncomfortable, uneasy, the outcomes unpredictable as we turned the pages ever more furioulsy to find out what would happen next.
The Island itself was a veritable paradise, the soft sand, the blue water, the humidity of the jungle and its many sounds. I admired how Taylor turned each aspect into danger, a phobia, a hurdle they had to breach to survive. She knew how to turn the screws, to up the tensions and build to that willed for dramatic ending, our fears acknowledged, yet also filled with empathy and emotion.
Taylor may have written a thrilling story, but she also balanced that with human emotion, with mental illness and hang ups that affect most teenagers to some extent in todays society. She exaggerated it in all the right places, treated her characters with respect, the balance just right.
Now, she may have written a young adult novel, but for someone who doesn't read a whole lot of this genre I absolutely loved The Island.
I would like to thank HQ Young Adult for a copy of The Island to read and review and for inviting My Bookish Blogspot to participate in the blogtour.
About the author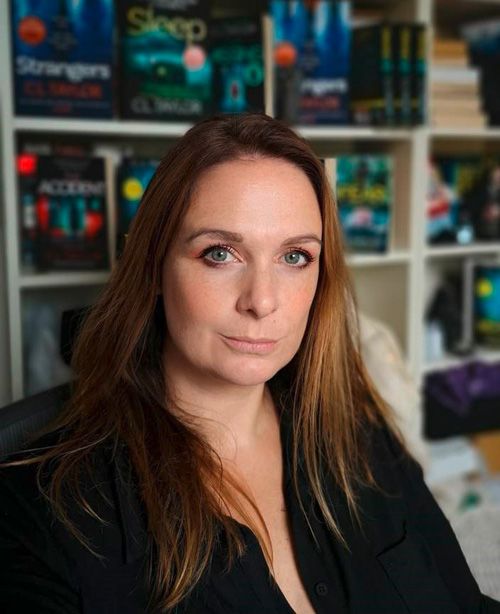 C.L. Taylor is a Sunday Times bestselling author. Her psychological thrillers have sold over a million copies in the UK alone, been translated into over twenty languages, and optioned for television. Her 2019 novel, Sleep, was a Richard and Judy pick. C.L. Taylor lives in Bristol with her partner and son.