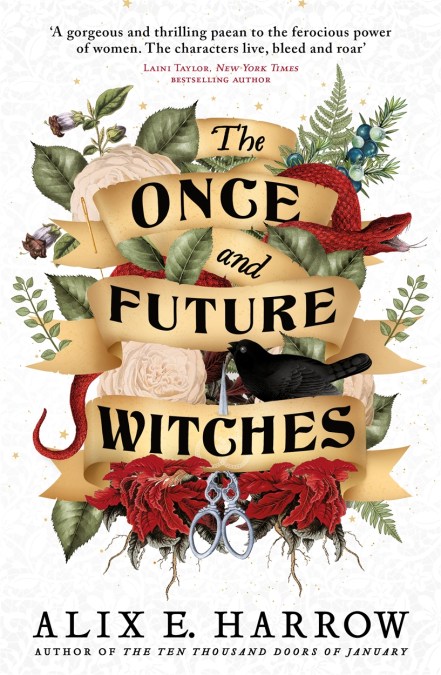 The Blurb
In 1893, there's no such thing as witches. There used to be, in the wild, dark days before the burnings began, but now witching is nothing but tidy charms and nursery rhymes. If the modern woman wants any measure of power, she must find it at the ballot box.
But when the three Eastwood sisters join the suffragists of New Salem, they begin to pursue the forgotten ways that might turn the women's movement into the witch's movement. Stalked by shadows and sickness, hunted by forces who will not suffer a witch to vote – and perhaps not even to live – the sisters must delve into the oldest magics, draw new alliances, and heal the bond between them if they want to survive.
My Review
There is nothing I like better than a good witch novel and when it was intensely gripping and immersive as The Once and Future Witches I loved it even more. Yet there was a difference, one that gave it an extra dimension that I admired so wonderfully did Harrow weave her themes within the story.
So what did Harrow do that made it that bit different? It was her ability to incorporate equality, feminism and race into what could have been just an ordinary witch novel with such effortless ease.
She gave us three young women, sisters, daughters of a tyrannical drunk father, of whom two escaped leaving the youngest to her fate. All harboured grudges that through the years apart had festered and simmered until one fateful day in New Salem they met again.
So who were they? Bella, the eldest, the Maiden, the intellect who enveloped herself in a world of words and books. She was the one who craved an easy life, one where she no took risks, made few friends and existed within her own enclosed world.
Agnes, the middle sister, who spent her days working in the cotton mills, at the beck and call of its male owners and foremen, poorly paid, and just like Bella, just existing.
Juniper will no doubt be everyone's favourite, the youngest, the one who stayed behind until their father died who made her way to New Salem. She was stubborn, naive, angry, brave, and in many respects foolhardy, but you had to love her for all her faults.
Harrow threw them back together, the old grudges, the mistrust simmered below the surface before outside events overtook as Juniper's involvement in the New Salem Women's Association grew more intense and risky. This was where Harrow injected that clever 'difference' the push for women to get the vote, to be treated as more equal, to have the same pay as men, to be listened to for their opinions, to have that all important voice so long denied.
Of course, Harrow didn't merely stop there as the wonderful world of magic, spells and potions slowly crept in, as the evil Gideon Hill, would be Mayor, became the thorn in their side, the evil that must be defeated.
Obviously it wasn't always straightforward as the sisters, came up against their own personal challenges that included motherhood, coming to terms with their past and even a little time for love.
It gave the novel a wonderful heady mix that was at once thrilling and exciting, as Harrow negotiated us through the constant sway between good and evil. The atmosphere Harrow managed to create, was brilliantly eerie, burning towers, hovering mists, the tangled web of backstreets, alleys and underground tunnels, prisons submerged in water, and growling dark familiars that had me completely consumed.
I hoped beyond hope that the sisters would succeed as Harrow ramped up the danger, the threat to life imminent, seemingly guaranteed as they ran towards a brilliant pulse racing climax. The imagery was unbelievable, the tension tangible, the fallout heartbreaking but somehow right, somehow what was needed.
I was grateful Harrow provided an epilogue, one that completed the novel, that tied up the lose ends and left me with a great satisfaction of having read a truly fantastic novel.
I would like to thank Orbit for a copy of The Once and Future Witches to read and review and to Tracy Fenton of Compulsive Readers for inviting My Bookish Blogspot to participate in the blogtour.
About the author
A former academic and adjunct, Alix E. Harrow is now a full-time writer living in Kentucky with her husband and their semi-feral kids. She is the author of Hugo Award-winning short fiction and her debut novel, The Ten Thousand Doors of January was shortlisted for the Hugo, Nebula and Locus awards.
Find her on Twitter at @AlixEHarrow.