Book Synopsis
This is the story of The Greatest Funambulist Who Ever Lived…
Born into a post-war circus family, our nameless star was unwanted and forgotten, abandoned in the shadows of the big top. Until the bright light of Serendipity Wilson threw her into focus.
Now an adult, haunted by an incident in which a child was lost from the circus, our narrator, a tightrope artiste, weaves together her spellbinding tales of circus legends, earthy magic and folklore, all in the hope of finding the child… But will her story be enough to bring the pair together again?
Beautiful and intoxicating, A Girl Made of Air brings the circus to life in all of its grime and glory; Marina, Manu, Serendipity Wilson, Fausto, Big Gen and Mouse will live long in the hearts of readers. As will this story of loss and reconciliation, of storytelling and truth.
My Review
My first thought about A Girl Made Of Air was its distinctly ethereal feel, from the timely insertion of Isle Of Man folklore, to the magic of the circus and the big top. In the centre, our unnamed narrator, sometimes referred to as Mouse took our hand and guided us through her story, one of neglect, of friendship, love and regret.
She was the girl born of parents who didn't see her, didn't love her, forced her to fend for herself, as they became wrapped in their own love and woes. That was until she met Serendipity Wilson, the funambulist with the shocking red hair who took her into her wigwam and wrapped her in the love her parents deemed incapable of, yet it set of a chain of events that resonated throughout her life.
Hetherington didn't make me feel sorry for her, instead she used Mouse's voice to talk directly at us, or at someone else, someone alluded to but not revealed. I loved that it gave the novel a close personal feel, that enveloped us in her words, thoughts and feelings, a long winding stream of consciousness.
As she sat in her hotel room, wrote her story, Hetherington portrayed a young girl, who under the tutelage of Serendipity became a great tight rope worker but also learnt the hardship of human nature. She grew up in front of us, her naivety laid bare, the truth of her parentage shocking, her one supposedly good act thrown back at her, caused her untold grief that made you want to wrap her up in soft warm blankets, tell her it wasn't all her fault.
Hetherington gave us the workings of the circus, the glamour stripped away, the hard life its performers, both human and animal led. There were the petty jealousies, favoritism, the dirt, the transit nature of their lives that prevented friendships and education, but it was home until Mouse decided it wasn't and it was time to find what was lost.
Hetherington took her to the new world of America, of Tv's shops, streets full of people, Mouse lost in the melee. Yet she was brave, determined as she found herself on Coney Island. Hetherington conjured images of a rundown island, of the tired acts, the poverty, but the sparks of hope and love Mouse discovered made me smile and hope that finally she had found peace. It wasn't to be and the promise of wealth and fame led her away, almost to her downfall and you wondered if she would become lost, forget who she was and why she was there.
You wanted that happy ending to what was a truly wonderful story full of colour, of the frailities of human nature. I can only recommend that you borrow or buy and discover the wonderful story for yourself.
I would like to thank Quercus for a copy of A Girl Made Of Air to read and review and to Millie Reid for inviting My Bookish Blogspot to participate in the blog blitz .
About the author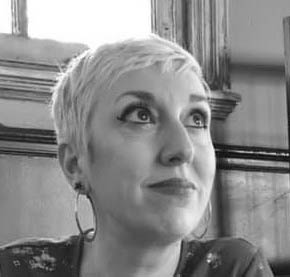 Originally from Leeds, Nydia Hetherington moved to London in her twenties to embark on an acting career. Later she moved to Paris where she studied at the Jacques Lecoq theatre school before creating her own theatre company. When she returned to London, she completed a creative writing degree at Birkbeck.