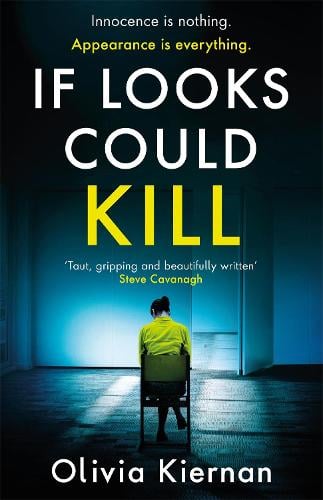 Book Synopsis
DCS Frankie Sheehan is experiencing a crisis of confidence – having become wary of the instincts that have led her face-to-face with a twisted killer and brought those she loves into direct jeopardy.
She is summoned to the rural Wicklow mountains, where local mother of two, Debbie Nugent, has been reported missing. A bloody crime scene is discovered at Debbie's home, yet no body. Not only is foul play suspected, but Debbie's daughter, Margot, has been living with the scene for three days.
Aware her team cannot convict Margot on appearances alone, Sheehan launches a full investigation into Debbie Nugent's life. And, before long, the discrepancies within Debbie's disappearance suggest that some families are built on dangerous deceptions, with ultimately murderous consequences.
My Review
You can always rely on Olivia Kiernan to deliver a cracking crime novel, and If Looks Could Kill definitely didn't disappoint.
DSC Frankie Sheehan was back, her trusted sidekick Baz by her side as they investigated the disappearance of Debbie Nugent. Kiernan took us away from the bright lights of Dublin to rural Ireland, to Wicklow, a town where everyone knew everyone business or so you thought.
You loved the contrast in policing styles as Sheehan and her team swept in to the quiet, low tech, slowness of a rural police station. It's Sargent Alex Gordon happy to tag along, to get involved, the crime seemingly straightforward, almost locked away. But this is a Kiernan novel, simple and straightforward not something you would associate with her.
She threw questions at Sheehan, little seeds of doubt, as we were submerged into a dangerous web of gang crime, and opposing family factions.
What was the connection, where was Kiernan taking Sheehan and us, the reader?
You were never quite sure who was telling the truth, where the leaks were, and there was the faint tang of corruption that didn't seem to go away.
Sheehan was like a dog with a bone, relentless, determined in her need to discover the truth. You loved her intelligence, her ability to read people to put the varying clues and strands together, to put herself on the line, even if that meant failure.
Kiernan pulled us along, moved us into Sheehan's headspace as you moved in step with the investigation, the fear tangible, as the need for answers hastened your reading. You read as the various characters manoeuvred themselves into position, the need to protect others and ultimately themselves. I loved the interplay between Sheehan and Sargent Alex Gordon, the cat and mouse games she played with the various players, as she placed herself in imminent danger.
The latter parts had you on the edge of your seat, Sheehans nerves pulled as tight as string as she did what she did so well, going out on a limb, willing to take a risk.
Kiernan's narrative was as brilliant as ever infused with intelligence, the plot lines never over done, but based in reality, the use of poetic licence done with great skill.
I always feel hugely satisfied after reading Kiernan's novel and Kiernan should feel equally satisfied and happy that this reader thoroughly enjoyed If Looks Could Kill and cannot wait for the next instalment.
I would like to thank RiverEun for a copy of If Looks Could Kill to read and review and to Milly Reid for inviting My Bookish Blogspot to participate in the blogtour.
Who is Olivia Kiernan?
Olivia Kiernan is an Irish writer. In a previous life, she completed a diploma in anatomy and physiology then a BSc in Chiropractic before she succumbed to the creative itch and embarked on an MA in Creative writing. In 2015, she began writing Too Close to Breathe, a crime thriller that was published in 2018 and features Dublin detective, Frankie Sheehan.
The second in the series The Killer In Me was called a "captivating new thriller" by the Wall Street Journal, "a high-stakes noir page-turner" by Bookpage.com and "a nail-bitingly good read" by Mystery Scene. The third in the DCS Frankie Sheehan series will be released July 2020.