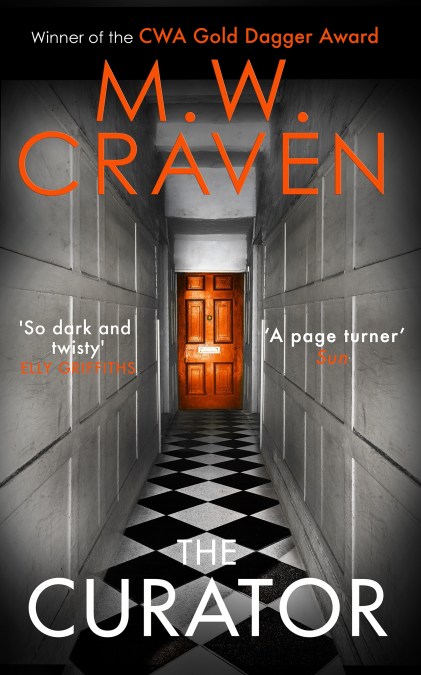 Book Synopsis
It's Christmas and a serial killer is leaving displayed body parts all over Cumbria. A strange message is left at each scene: #BSC6
Called in to investigate, the National Crime Agency's Washington Poe and Tilly Bradshaw are faced with a case that makes no sense. Why were some victims anaesthetized, while others died in appalling agony? Why is their only suspect denying what they can irrefutably prove but admitting to things they weren't even aware of? And why did the victims all take the same two weeks off work three years earlier?
And when a disgraced FBI agent gets in touch things take an even darker turn. Because she doesn't think Poe is dealing with a serial killer at all; she thinks he's dealing with someone far, far worse – a man who calls himself the Curator.
And nothing will ever be the same again . . .
My Review
This was the book I needed, the one that had me stuck to my deck chair over the hot weekend. Once again I found myself racing across Cumbrian Fells, lost in a plot that grew grimmer by the page and reunited me with my favourite characters, Washington Poe, Tilly Bradshaw and bouncy Spaniel, Edgar.
Poe never changed, still hellbent on pursuing his own course through investigations that somehow his superiors turned a blind eye to and forgave as they knew he would get results. We never get to see much of his personal love life just glimpses that Craven dangled in front of us, perhaps saving for a later novel. What I would love, Mr Craven is for Poe to perhaps have a little romance at some point!
I love the way Craven is developing Tilly's character, and in this one he slowly opened her up a little bit more. We saw a sense of humour, her social skills improving and her colleagues looking beyond the awkwardness to appreciate the extraordinary talent and skills she possessed.
The plot was typical Craven, dark, twisted and intricate. Detached fingers found in multiple locations and one body gave Poe and Tilly more than a headache as they attempted to work out what they meant and, indeed who or whom were behind the gruesome discoveries. Craven played to their strengths as he used Poe's ability to think outside the box and Tilly's technical skills to dig deep into the dark side of the internet and the psychology behind the coercion and brain washing of individuals. I found it absolutely fascinating as Craven opened up a world that I never knew existed and made all the more scary that it was actually based on reality, Craven exaggerating and pushing to the extreme to get the most out of his plot lines.
Numerous characters flitted through your mind as potential suspects before Craven steered you on another tangent, before he finally revealed the brains behind the whole twisted and horrific crimes. You will definitely be surprised, the perpetrator unexpected, whose actions were all the more horrific and evil when you knew who they were.
Once again Craven used the Cumbrian landscape to his advantage, it's bleakness, inclement weather and locations created a brilliant atmosphere. The imaginary Montague Island based on the Islands of Furness provided Craven with a brilliant location for the final breath taking and tense moments as the wind blew around them and the tide threatened their lives.
I was sad to leave Poe and Tilly behind but the tantalising final page left me in no doubt that we shall meet again and maybe just maybe we will get to know a bit more about Poe.
I would like to thank Little Brown for a copy of The Curator to read and review and to Beth Wright for inviting My Bookish Blogspot to participate in the blogtour.
About the author
M. W. Craven was born in Carlisle but grew up in Newcastle, returning after 31 years to take up a probation officer position in Whitehaven, eventually working his way up to chief officer grade. Sixteen years later he took the plunge, accepted redundancy and became a full-time author. He now has entirely different motivations for trying to get inside the minds of criminals. His first novel featuring Washington Poe and Tilly Bradshaw, The Puppet Show, was published by Constable to huge acclaim, and it has since won the CWA Gold Dagger Award and been shortlisted for the Amazon Publishing Readers' Awards: Best Crime Novel, the Goldsboro Glass Bell Award and the Dead Good Reader Awards. M. W. Craven lives in Carlisle with his wife, Joanne. When he isn't out with his springer spaniel, or talking nonsense in the pub, he can usually be found at punk gigs and writing festivals up and down the country.