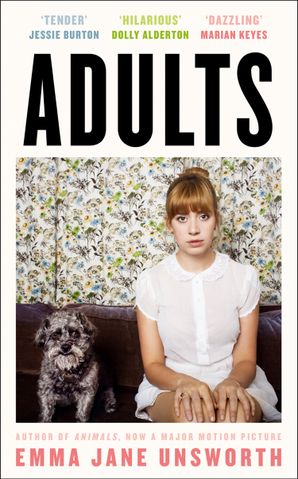 Adults by Emma Jane Unsworth January 30th 2020
Jenny is unloved, unemployable and emotionally unfiltered. Her long-suffering friends seem sick of her and whilst her social media portrays her life as a bed of roses, it is more of a dying succulent.
Adults is what you want it to be. A misadventure of maturity, a satire on our age of self-promotion, a tender look at the impossibility of womanhood, a love story, a riot. And Emma Jane Unsworth is the only voice to hear it from. Adults is excruciating, a gut punch of hilarity and a book laden with truth that you will read again and again.
My Review
When do we truly become an adult? Is it when we turn 18, that magic number when everything suddenly becomes legal or is adulthood something we grow into at some point in the future.
It was a question I pondered as I entered the world of Jenny, aged 35, newly single, a journalist for a feminist magazine lost in the melee that was social media.
How many likes would her latest Instagram post garner, was the picture right and what about the phrasing and the dreaded hashtag. Would her carefully thought out comments under those she followed be noticed and more importantly liked. It was as if Jenny was a teenager, searching for that ideal and perfect world. It was at times irritating, serious and laugh out loud funny.
I cringed at some of her antics, at her thought processes, felt alternately sorry and mad with her. I sympathised with her best friend Kelly at her constant selfishness and social media paranoia, detested her ex boyfriend Art and fell in love with her wonderfully colourful psychic mother.
It's not often an author can stir up so many emotions yet Unsworth did it with such skill, her narrative a wonderful mix of the stark and the colourful.
I loved the differing lengths of the chapters the emails, and letters, interspersed that gave such a rounded and in depth portrayal of Jenny.
It was almost as if we were finding out who the real Jenny was as she hurtled from crisis to crisis as Jenny, herself peeled back the layers that left her exposed and vulnerable. Would she realise her mistakes, would she be able to rebuild, to find calm and acceptance in a mad chaotic world and be free of her addiction to her phone.
Unsworth perfectly captured modern society through her characters and the story she told. A society where perfection and perception is everything, where the average person can hide their true self behind a carefully nurtured and curated social media world. It made you wonder if we have forgotten the difference between the ideal and the reality, that if we don't measure up to our peers expectations we have somehow failed.
Unsworth wasn't passing judgement, wasn't lecturing on the wrongs of our world she merely and brilliantly made you stop and think, to examine your own actions and maybe do something to change your own thoughts and ways.
Adults was a thoroughly modern novel, perceptive, funny, serious and just brilliant!
I would like to thank Ann Bissell and Borough Press for a copy of Adults to read and review.
About the author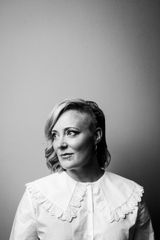 Emma Jane Unsworth's first novel, HUNGRY, THE STARS AND EVERYTHING, won a Betty Trask Award from the Society of Authors and was shortlisted for the Portico Prize for Fiction. Her second novel, ANIMALS, won a Jerwood Fiction Uncovered Prize. ANIMALS was adapted into a film, for which Unsworth wrote the screenplay. ANIMALS the film, starring Holliday Grainger and Alia Shawkat, premiered at Sundance Film Festival 2019 and was released in the UK later the same year. Unsworth writes essays for various magazines and newspapers. She also writes for television. She is currently adapting ADULTS, her third novel, into a TV series.