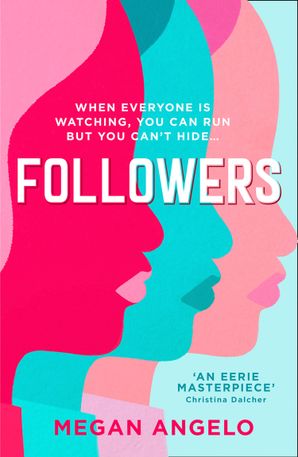 The Followers by Megan Angelo HQ January 9th 2020
When everyone is watching you can run, but you can't hide…
2051. Marlow and her mother, Floss, have been handpicked to live their lives on camera, in the closed community of Constellation.
Unlike her mother, who adores the spotlight, Marlow hates having her every move judged by a national audience.
But she isn't brave enough to escape until she discovers a shattering secret about her birth.
Now she must unravel the truth around her own history in a terrifying race against time…
An explosive and unsettling novel set in the near-future, perfect for fans of Station Eleven, Black Mirror, The Circle and Friend Request.
My Review
We all dabble in social media, Instagram, Facebook and Twitter, but what if you took that dabbling to the extreme? What would your life look like? For Marlow her life in Constellation is a life lived in front of a camera, the bathroom the only escape from ever watchful cameras, her every move and life event written by a team of writers.
Angelo made it all feel so ordinary, yet at the same time you were horrified, as you caught a glimpse into a dark future.
You wanted to know how she ended up in Constellation and Angelo's dual timeline transported the reader skillfully between the past and the present.
She introduced us to Orla, prolific blogger whose flatmate Floss had a huge desire to be famous. Using Orla's PR and social media skills her wish soon became true and you felt like you were trapped in a nightmare. Angelo made you question everything you thought about self promotion, life in the spotlight and the lengths some will go to to achieve their aim.
Floss was every bit the Instagram, YouTube, reality TV personality we see on our screens. She was utterly selfish and self obsessed, always on the look out for the next big thing that would garner followers. She used, manipulated and disrespected those around her, as Angelo perfectly curated a character you will love to hate.
Was Orla any different or was she too along for the ride, for the fame and the riches it brought with it? Orla was one of those wonderful contradictions, a character you wanted to dislike, but who you knew deep down wasn't anything like Floss, who was somehow lost, and you wanted the real Orla to fight her way out.
As their story unfolded, so Angelo slowly revealed Marlow's, a story that sickened and horrified me, as I knew that somewhere in the world it could be a real persons story.
And that was what was so brilliant about this novel. Yes, it was set in the future, yes Angelo was asking us to suspend belief, but was she really? Are we today laying the foundations for a future where privacy is non existent, our data used to manipulate society for the benefit of others. Is this a future that we really want or should we be doing something about it now before it goes too far and a return to the norm would be impossible.
I came to the conclusion that there is a place for both in society, that it's our decision how far we use social media and the opposing sides should respect our choices.
What ever your thoughts I recommend that you pick up The Followers and immerse yourself in Angelo's fabulous narrative. It was a narrative that immersed you in such wonderful storytelling, from the very first page to the last.
It would make the most wonderful Netflix series and I for one would be hooked.
I would like to thank Harper Collins for a copy of The Followers by Megan Angelo and to Joe Thomas for inviting My Bookish Blogspot to participate in the blogtour.
About the author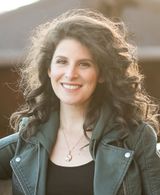 Megan has written about television, film, women and pop culture, and motherhood for publications including The New York Times (where she helped launch city comedy coverage), Glamour (where she was a contributing editor and wrote a column on women and television), Elle, The Wall Street Journal, Marie Claire, and Slate. She is a native of Quakertown, Pennsylvania and a graduate of Villanova University. She currently lives in Pennsylvania with her family. FOLLOWERS is her first novel.