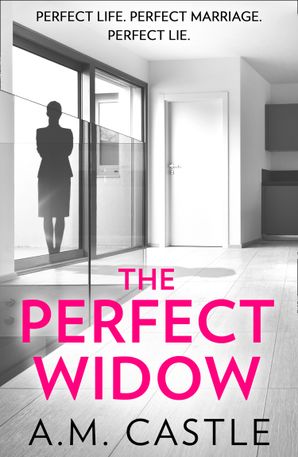 The Perfect Widow by A.M. Castle HQ Digital
Louise Bridges has the perfect life.
A loving husband, Patrick. Two adorable children. A comfortable home.
So when PC Becca Holt arrives to break the news that Patrick has been killed in an accident, she thinks Louise's perfect world is about to collapse around her.
But Louise doesn't react in the way Becca would expect her to on hearing of her husband's death. And there are only three plates set out for dinner, as if Louise already knew Patrick wouldn't be home that night…
The more Becca digs, the more secrets she uncovers in the Bridges' marriage – and the more she wonders just how far Louise would go to get what she wants…
Is Louise a loving wife – or a cold-hearted killer?
My Review
What is the Perfect Widow? Is the woman who sobs uncontrollably, can't put one foot in front of the other or is it the woman who seems controlled, void of emotion?
Castle challenged the reader to think about what made a perfect widow, our preconceptions, the life behind the public seemingly happy facade. She Ali questioned our views of the haves and the have nots, how far we might personally go to gain both financial and personal stability, security.
Both of the main characters lacked something in their lives both in the past and the present. Louise, The Perfect Widow was the most complex, a woman who brought herself up as she watched her mum drown in drugs, alcohol and the wrong men. Did I like her? You had to admire her determination and tenacity to hide her past, to push herself out of poverty to get the life she felt she deserved. The other part of me found her cold, even callous as she used those around her, those who taught her how to behave, how to dress, how to be a parent. There was one thing I was certain of and that was the love she had for her children, the need to protect and nurture and give them everything she never had. You did wonder if a different upbringing would have brought about an alternative outcome, and if the perfection she strove towards was just too perfect.
Becca, on the other hand, had a mum who cared and nurtured, but put her down, left her feeling inadequate, less confident. I loved that she was the polar opposite of Louise, a comfort eater, a less than slim body, but both shared that feisty determination and tenacity to achieve. Her obsession to uncover Louise's supposed crime drove her on, and you could see her gain confidence, fight off the self doubt that had so plagued her.
Their alternating voices gave the novel a wonderful balance, the pursuer versus the perused, who would be victorious, or was that really the point? To some extent yes, after all this was a crime novel and we all wanted to know if Louise was guilty, but it was also about what you would do to protect your children, to fight for the life that you had and did not want to lose. I loved reading the way in which Louise and in particular, Becca's characters developed, the confidence Becca found, the respect she craved from her peers within her grasp.
The plot was intricate, what you read never superficial, always another layer to be peeled back as the truth or what you thought to be the truth slowly emerged. It definitely wasn't driven by action, but by a glorious cast of characters driven by their need to succeed and I loved it!
I would like to thank HQ for a copy of The Perfect Widow to read and review and for inviting My Bookish Blogspot to participate in the blogtour.
About the author
Before turning to crime, A.M. Castle had a long career as a feature writer on national newspapers including the Daily Express, The Times and The Daily Telegraph. She grew up in south London and, after a stint in Brussels, she is back where she belongs. As well as writing psychological thrillers, she also writes cosy mysteries as Alice Castle. She is married with two children, two stepchildren and two cats.