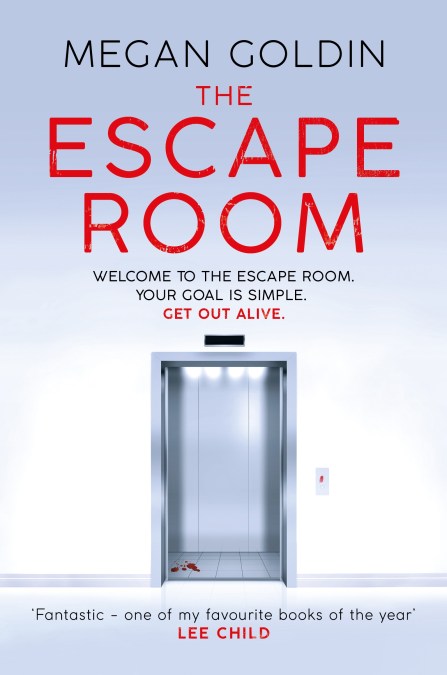 The Escape Room by Megan Goldin Orion Books July 25th 2019
Welcome to the escape room. Your goal is simple. Get out alive.
In the lucrative world of Wall Street finance, Vincent, Jules, Sylvie and Sam are the ultimate high-flyers. Ruthlessly ambitious, they make billion-dollar deals and live lives of outrageous luxury. Getting rich is all that matters, and they'll do anything to get ahead.
When the four of them become trapped in an elevator escape room, things start to go horribly wrong. They have to put aside their fierce office rivalries and work together to solve the clues that will release them. But in the confines of the elevator the dark secrets of their team are laid bare. They are made to answer for profiting from a workplace where deception, intimidation and sexual harassment thrive.
Tempers fray and the escape room's clues turn more and more ominous, leaving the four of them dangling on the precipice of disaster. If they want to survive, they'll have to solve one more final puzzle: which one of them is a killer?
My Review
Four people trapped in an elevator, their only hope of escape to solve the clues, clues that somehow appeared deeply personal, that would shatter trust, respect and open up secrets. Not your average crime novel, it's setting unique and refreshing, its characters the ultimate in greed and selfishness.
Goldin didn't hold back as she gave us four characters who worked hard, typical examples from the world of banking. Vincent, their leader, all powerful, in control, pulling their strings. I loved how Goldin diminished his power, his respect as they grappled in the darkness of the elevator and revealed the extent of his subterfuge.
I detested Sylvie, hard, focused, the ultimate bitch driven by her need to succeed in a man's world. You could see her vulnerabilities emerge the longer they remained in the elevator but it didn't make me like her anymore.
The interesting aspect of The Escape Room was Sarah Hall, the one person not in the elevator, but on the outside. She was our eyes, our narrator who filled in the background of the financial team she was thrown into, the one who was never quite accepted. You watched as she enjoyed her success, the money, was enveloped by the whole corporate image, indoctrinated and ultimately blinkered. You wondered what her connections to the escape room were as Goldin ramped up the tension, twisted the screws as you tried to read faster to discover the outcome.
It was an outcome that made you cheer, no sympathy for those involved, a sense of you reap what you sow.
I loved the ending and it did make me think that perhaps Goldin had left the door open for a sequel and I for one would be first in the queue to read.
I would lime to thank Orion for a copy of The Escape Room to read and review and to Tracy Fenton of Compulsive Readers for inviting My Bookish Blogspot to read and review.
About the author
MEGAN GOLDIN worked as a correspondent for Reuters and other media outlets where she covered war, peace, international terrorism and financial meltdowns in the Middle East and Asia. She is now based in Melbourne, Australia where she raises three sons and is a foster mum to Labrador puppies learning to be guide dogs. THE ESCAPE ROOM is her debut novel.