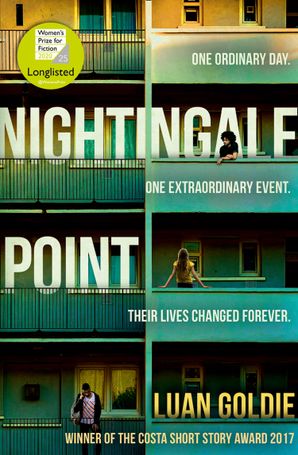 Nightingale Point by Luan Goldie HQ Stories July 25th 2019
On an ordinary Saturday morning in 1996, the residents of Nightingale Point wake up to their normal lives and worries.
Mary has a secret life that no one knows about, not even Malachi and Tristan, the brothers she vowed to look after.
Malachi had to grow up too quickly. Between looking after Tristan and nursing a broken heart, he feels older than his twenty-one years.
Tristan wishes Malachi would stop pining for Pamela. No wonder he's falling in with the wrong crowd, without Malachi to keep him straight.
Elvis is trying hard to remember to the instructions his care worker gave him, but sometimes he gets confused and forgets things.
Pamela wants to run back to Malachi but her overprotective father has locked her in and there's no way out.
It's a day like any other, until something extraordinary happens. When the sun sets, Nightingale Point is irrevocably changed and somehow, through the darkness, the residents must find a way back to lightness, and back to each other.
My Review
Take a normal inner London tower block and it's myriad of residents, throw in a tragic accident and Gold gave us a fantastic and at times harrowing novel.
Gold gave us their before and after stories, set the scene before throwing their lives into disorder and despair.
I loved that she told their story in their own voices, able to really delve deep into their innermost thoughts, and anguish.
Malachy, elder brother of Tristan, his role to be Mum and Dad whilst he tried to juggle university and their precarious finances. Such a responsibility you could almost feel and see the weight of the world resting on his shoulders. His over protectiveness was his undoing in the aftermath as he struggled with his inability to control events, to find a way forward.
Tristan, younger brother, the wide boy in with the wrong crowd, the accident a wake up call, a re-evaluation of life. Gold gave him a cheekiness and arrogance before the thump and reality of real life, of dealing with medical issues and an appreciation of those in his life.
Mary, mother, grandmother, protector of Malachy and Tristan, a largely absent husband and a faith so deep rooted it frustrated me. Yet you knew Mary had to find a new way to accept her faith, and Gold excelled in her descriptions of Mary's anguish.
Pamela's story was heartbreaking, a young girl, daughter of an over protective father who denied her a normal life. Her role in the novel so different from the other characters, as she acted almost like a catalyst for present and future events.
Elvis, for me was the most endearing, his story poignant full of bravery, prejudice, of a struggle to live a normal life. The accident was somehow a blessing, even if it was traumatic. I loved how Gold showed a young man with difficulties triumph in a confusing and complicated world.
The characters were all so different yet it was if Gold had put them all into a blender as the once tenacious connections became deeper, more meaningful, the already existing connections severed only to be brought back together in a different form.
Gold brilliantly showed how tragedy affects everyone no matter what their socio-economic background. The tragedy itself graphic in detail, devastating to read but so necessary to provide the impact, the horror Gold wished to convey.
Gold left no stone unturned as she wrote of the inadequacy of local authorities, and social services, overwhelmed, unable to cope, as they let down their service users again and again.
It was hard not compare with the recent Grenfell tragedy, but Gold never sensationalised, just told her story, a story that was not only a social commentary but a hard hitting, tragic but fantastic story.
I would like to thank HQ Stories for a copy of Nightingale Point to read and review and to Lucie Richardson for inviting My Bookish Blogspot.
About the author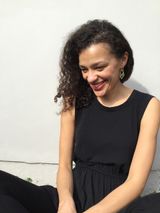 Luan Goldie is a primary school teacher, and formerly a business journalist. She has written several short stories and is the winner of the Costa Short Story Award 2017 for her short story 'Two Steak Bakes and Two Chelsea Buns'. She was also shortlisted for the London Short Story Prize in 2018 and the Grazia/Orange First Chapter competition in 2012, and was chosen to take part in the Almasi League, an Arts Council-funded mentorship programme for emerging writers of colour. Nightingale Point is her debut novel.