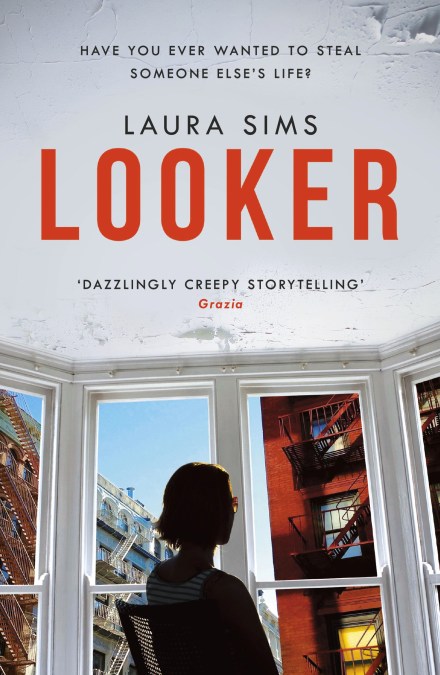 Looker by Laura Sims Tinder Press July 25th 2019The
Professor lives in Brooklyn; her partner Nathan left her when she couldn't have a baby. All she has now is her dead-end teaching job, her ramshackle apartment, and Nathan's old moggy, Cat. Who she doesn't even like.
The Actress lives a few doors down. She's famous and beautiful, with auburn hair, perfect skin, a lovely smile. She's got children – a baby, even. And a husband who seems to adore her. She leaves her windows open, even at night.
There's no harm, the Professor thinks, in looking in through the illuminated glass at that shiny, happy family, fantasising about them, drawing ever closer to the actress herself. Or is there?
My Review
Dark and intense are two words that perfectly sum up Laura Sim's novel Looker.
Our narrator was an unnamed professor, a woman who outwardly seemed fine but inwardly was definitely not ok. You had to wonder about a grown woman with an unhealthy obsession with a famous actress who resided a few doors away. Was she jealous of the actresses family, her loving husband, her children, her success? Did she want what she had or did she just want to be her friend, to be a part of what she had?
It could have be one or all of them, and that is what made this novel so intriguing as you tried to work out the many questions Sims posed as to our narrators motives and actions.
The one thing the novel was definitely about was the huge impact life events can have on one person, how it can close us off from the rest of the world. It was almost as if our narrator had put on a pair of blinkers, couldn't see anything beyond the actress, herself and her all encompassing need to belong to something or someone.
You admired Sims's ability to step deep within her character, her eloquence at conveying her emotions, her turmoil so brilliantly into her narrative.
At points Sims made me feel sorry for her, at others I really didn't like her. She frustrated me, I wanted her to wake up, to halt the self destruct button and get help. You could only watch as she spiralled out of control and you knew there was nothing you or she could do to stop it.
The ending when it came was abrupt, shocking and inevitable, and perfectly fit the general tone and themes of the novel.
The novel itself wasn't long, a mere 198 pages but it didn't need to be any longer. Sims's narrative was precise, every word, every page heavy with tension and turmoil and at times menace. It was an intense, fast, dark read that left you exhausted but satisfied as you turned the final page and I loved it.
I would like to thank Tinder Press for a copy of Looker to read and review and to Anne Cater if Random Things Tours for inviting My Bookish Blogspot to read and review.
About the author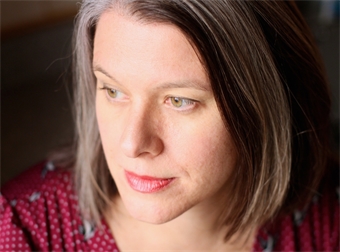 Laura Sims is the author of four books of poetry, and LOOKER is her debut novel. She lives in Brooklyn.