Stone Cold Heart by Caz Frear
A fractured marriage. A silent family. A secret that connects them all.

When DC Cat Kinsella is approached by Joseph Madden for help with his wife, Rachel, there's not much she can do. Joseph claims that Rachel has been threatening him, but can't – or won't – give Cat details as to why. Dismissing it as a marriage on the rocks, Cat forgets about it.
That is until Naomi Lockhart, a young PA, is found dead after a party attended by both Joseph and Rachel, and Joseph is arrested for the murder.
Joseph says his wife is setting him up.
His wife says he didn't do it.
The trail of evidence leads to even more questions . . .
Adulterer. Murderer. Victim. Who would you believe?
My Review
I'm not sure what I liked most, the punchy narrative or Detective Constable Cat Kinsella, maybe by the end of the review I will have made my mind up.
Lets start with DC Cat Kinsella, a young woman obviously blighted emotionally by past events, events that could ruin her promising career as a detective and what I am sure were addressed in Frear's first novel. However that didn't matter as Frear gave enough detail, and filled in the blanks that meant Stone Cold Heart stood perfectly well on it's own.
Kinsella was one tough cookie, resilient, forthright yet wasn't afraid to show emotion and indeed to feel emotion as she wrestled with a tough murder case and family issues that hovered in the background. I liked the mix of personal and professional that gave the novel that added extra edge, the element of danger to Kinsella somehow heightened, that she seemed more human, more ordinary than any of the detectives you so often encounter in crime novels. I think it was this ordinariness that had me rooting for her, hoping that her love life, her family and her professional woes would be resolved.
The murder was definitely not straightforward, each character had their own motive, secrets that needed to remain hidden, and they were all family which only made the intrigue more enthralling.
They were not the nicest of characters, Jacob the narcissist, who never seemed able to distinguish between the real and the make believe. Rachel, his wife, meek, mild and scared or was she? Their daughter, Clara, confident, brash, intelligent, ignored by her father, smothered by her Mum. I wanted feel sorry for her, but I didn't as traits of her father seemed to linger. Rachel's brother, Marcus, the reformed bad boy, who seemed the only sane realist amongst them. His wife Kirstie, a woman who was all about appearances, superficial and selfish.
This heady mix of personalities had your head in a veritable spin as you tried to work out who was protecting whom and more importantly who the murderer was. I found it enthralling and addictive and wished my train journey had been that little bit longer so I could get to the end.
Kinsella was tenacious in pursuit of the culprit and I loved her initiative, her willingness to bend the rules and take risks.
The outcome was complex, but Frear left no stone unturned and you couldn't help but feel slightly disgusted that a family could be so selfish, and self absorbed.
As I have already said the narrative was punchy, with an edge to it that I loved. It didn't have that staid feel that you sometimes get in crime novels, and for me I found it very visual like watching an engrossing TV drama unfolding in front of me.
I think I liked Kinsella and the narrative in equal measure and I definitely liked the cliffhanger ending and hope Frear doesn't keep us waiting too long for the next instalment.
I would like to thank Zaffre for a copy of Stone Cold Heart to read and review and to Tracy Fenton Of Compulsive Readers for inviting My Bookish Blogspot to participate in the blogtour.
About the author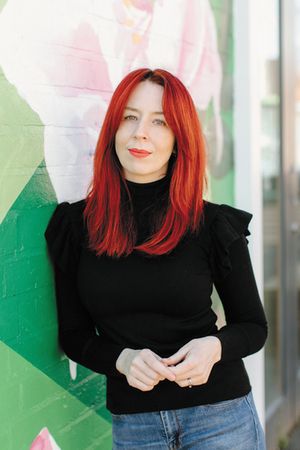 Caz Frear grew up in Coventry and spent her teenage years dreaming of moving to London and writing a novel. After fulfilling her first dream, it wasn't until she moved back to Coventry thirteen years later that the writing dream finally came true. She has a first-class degree in History & Politics, which she's put to enormous use over the years by working as a waitress, shop assistant, retail merchandiser and, for the past twelve years, a headhunter. When she's not agonising over snappy dialogue or incisive prose, she can be found shouting at the TV when Arsenal are playing or holding court in the pub on topics she knows nothing about.