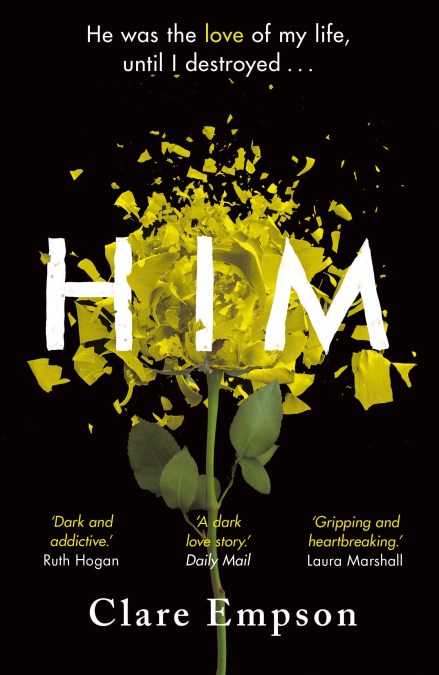 Clare Empson Him Orion Books April 4th 2019
Now: Catherine can't and won't speak to her husband, children or friends. When her doctor and nurses fail to coax her out of her elective mutism, they embark on an intensive exploration of her fractured past.
They will start with Him. Lucian. Then: Fifteen years before, Catherine was at university when she met the smart, vulnerable, funny Lucian: the love of her life.
But something terrible happens, something Catherine can never speak about without destroying Lucian.
So she disappears without explanation, and shatters his life. Years later, Lucian haunts every one of Catherine's quiet moments. So when they are unexpectedly reunited, their love reignites with explosive force. But yet again their lives implode.
This time, however, Lucian tries to uncover the real truth of the past, with horrific consequences.
Now: As Catherine moves deeper into the past, into the heart of their love affair, the truth slowly begins to unfurl. But will she be able to reclaim herself in time to save their second chance together? Or has that, too, been lost forever?
My Review
When you go to university you expect to meet lots of new people, but how often do you expect to meet the person would turn out to be the love of your life?
That is exactly what happened to Catherine and Lucian, but as we all know the course of true love never runs smooth and Empson definitely wrote a fascinating novel that encapsulated the impact and effect it had on their lives.
For Catherine, it was marriage and children but Empson made us question if we should settle for second best, if that true love would have sustained the rigours of everyday life. It was interesting to see how Catherine carefully papered over the cracks and attempted to immerse herself in family life, yet Empson created that sense of anticipation as we wondered what the catalyst would be, that would potentially shatter her world.
For Lucian, his was a gilded world of wealth and privilege but Empson created a man who never flaunted it, who was just simply a very nice person.
I think that is what I liked about Him, that two opposite worlds collided, and you could stand back and watch as you waited for the devastating consequences it would have for all involved.
I did feel sympathy for Catherine's husband Sam but at the same time felt he had no back bone, never brave enough to upset the status quo.
Lucien's friends were a mix between the truly vile, self obsessed world of the rich and those that were much nicer, much more accepting.
The mix of personalities was brilliant and I was just waiting for the explosion, for the lies and deceit to be uncovered. It was almost like watching a car crash in slow motion, just waiting for that impact and wondering who the casualties would be.
Empson did not disappoint, the narrative building the tension, until finally all was revealed and what a reveal it was!
There was definitely a serious side to Him, one that explored mental health, which was both balanced and sympathetic. It certainly made me think about trauma and the differing effects it can have.
Yet, it's overriding theme was love, love that can be superficial, for convenience but also that once in a lifetime love, that is passionate, deep and everlasting.
If there is one thing I have learnt from reading Him is that if you find that one true love, hang on to it, don't ever let it go because you might never find it again.
I would like to thank Orion Books for a copy of Him to read and review and to Tracy Fenton of Compulsive Readers for inviting My Bookish Blogspot to participate in the blogtour.
About the author
Clare Empson worked as a staff writer on national newspapers covering everything from collapsing merchant banks to tea with the late Barbara Cartland (everything pink including the cakes). Eight years ago, she moved to the West Country and founded the arts and lifestyle blog countrycalling.co.uk.
The idyllic setting inspired her first novel, which reveals the darker side of paradise. Clare lives on the Wiltshire/Dorset border with her husband and three children.