An Ocean Of Minutes by Thea Lim  Quercus June 28th 2018On September 1981, Polly and Frank arrive at the time travel terminal at Houston Intercontinental Airport. One will travel, and one will stay.
America is in the grip of a deadly flu pandemic. When Frank catches the virus, Polly will do whatever it takes to save her lover, even if it means risking everything. She agrees to a radical plan—time travel has been invented in the future to thwart the virus. If she signs up for a one-way-trip into the future to work as a bonded laborer, the company will pay for the life-saving treatment Frank needs. Polly promises to meet Frank again in Galveston, Texas, where she will arrive in twelve years.
But when Polly is re-routed an extra five years into the future, Frank is nowhere to be found. Alone in a divided America, with no status and no money, Polly is desperate to find Frank. But as danger mounts and her search demands unthinkable sacrifice, she must ask herself: what does it cost to hold on to the past, and what does it cost to let it go?
An Ocean of Minutes is a timely exploration of migration and the wrenching love story of two people who are at once mere weeks and many years apart.
My Review
Before I even opened An Ocean of Minutes my eyes were instantly drawn to the cover. It was a cover that stood out due to its simplicity, yet I knew it contained a myriad of hidden meanings that I hoped the story would uncover.
And, yes this is a story that has many levels, the primary being that of love, and its true meaning not just in general but what it means to us on an individual basis. For Polly it is her love for her boyfriend Frank and the need to save him from certain death from a flu pandemic sweeping America. Unwilling to leave him to the vagaries of the public health care system, but give him the best care possible Polly signed up to and was transported to the future and 1993, agreeing  where and when they will meet when Frank finally catches up with her. But as we know the course of true love is never smooth and Polly finds herself in 1998, 5 years later, and a world so different from the one she left.
It is a world that I was instantly transported to, such were the vivid descriptions and imagery used by Lim. Polly's frustration at not being able to make a simple phone call, send a letter, emanates from the pages and you have to read through gritted teeth as she meets brick wall after brick wall in her search for Frank.
The relationships she formed with her fellow time travellers are somehow more meaningful as they fight for food, sanity and survival, but it is her relationship with Norberto that is the most engaging and interesting. He is a man who she perhaps would not have been friends with in normal circumstances, but a mutual understanding led them to help one another. The consequences of their actions created some of the most dramatic moments in the novel and they had me literally turning the pages as quickly as possible to find out what happened next.
The latter parts of the novel are mesmerising, and emotive but I shall say no more for fear of revealing any spoilers!
This is a novel that had so much depth to it. It was thought provoking and hugely emotive, and certainly made me think about what love means to me and what I would do or feel if I was in the same situation.
The dystopian aspect is brilliantly done and I particularly liked that we weren't sent somewhere into the future but back to a time that was so different from what I myself remembered. It was almost like having all the nice things and even some of the basics in your life stripped away, laying you bare to yourself and your emotions. I think that is why the novel was so emotive as Polly's entire being centered around her search for her one true love, Frank.
As you can probably tell I loved this novel and I can honestly say it as good and if not better than its cover. I shall be donating my copy to the library in which I work, so that I can recommend to my customers and they enjoy An Ocean of Minutes as much as I did
Thank you so much to Quercus for a copy to read and review and to Ana McLaughlin for inviting My Bookish Blogspot to participate in the Blogtour.
About the Author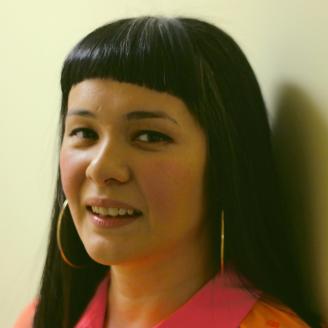 Thea Lim's novel An Ocean of Minutes is forthcoming from Quercus/Hachette in the UK, Viking/Penguin in Canada, and Touchstone Books/Simon & Schuster in the US in Summer 2018. Her writing has been published by the Southampton Review, GRIST, the Guardian, Salon, the Millions, Bitch Magazine, Utne Reader and others, and she has received multiple awards and fellowships for her work, including artists' grants from the Canada Council for the Arts and the Ontario Arts Council. Her novella The Same Woman was released by Invisible Publishing in 2007. She holds an MFA from the University of Houston and she previously served as nonfiction editor at Gulf Coast. She grew up in Singapore and lives in Toronto, where she teaches creative writing.Follow the other bloggers on the Ocean Of Minutes blogtour