Lucy and Linh by Alice Peng  Legend Press April
Laurinda is an exclusive school for girls. At its secret core is the Cabinet, a trio of girls who wield power over their classmates – and some of their teachers. Entering this world of wealth and secrets is Lucy Lam, a scholarship girl with sharp eyes and a shaky sense of self. As she watches the Cabinet at work, and is courted by them, can Lucy stay true to herself as she finds her way in this new world of privilege and opportunity?
My Review.
Before I wrote my review I did a little background reading on the author Alice Pung, purely because I sensed from the first page that this novel was written by someone who had experienced much of what she wrote about.
I read that Pung was from an immigrant family who fled the Killing Fields of Vietnam for the safety of Australia and had to battle her way through numerous high schools attempting to fit into an alien world. Lucy her main protagonist was set a similar task, but after winning a scholarship is thrown into an entirely different world of wealth and class at Laurinda, a private girls school.
Written in the form of a letter to her best friend Linh, Pung immediately plunged me into Lucy's world and I soon realised that Lucy had a life that would be difficult for the girls at Laurinda to even comprehend or understand. The descriptions of Lucy's family were just wonderful, her parents naive in the ways of the country in which they now lived, convinced Laurinda would offer opportunities that they would or had never had. I could sense Lucy's frustration at their lack of understanding of the various etiquettes of a class so alien to them, but she was also stoical, totally dedicated to her baby brother, Lamb and her sense of family first before everything else.
It is when Lucy is introduced to Amber, Brodie and Chelsea, otherwise known as 'The Cabinet' that the real differences between Lucy's life and theirs became apparent. Allowed into their inner sanctum she slowly began to realise the power and influence the cabinet had over her fellow students and teachers. I could sense her inner turmoil as she felt herself falling under their spell, how her view of her family changed, her embarrassment at their traditional ways, their lack of wealth, and inability to speak english. What particularly struck me was the contempt they felt for her race and the almost racist way in which the cabinet, their families and even some of the teachers treated her. I wanted to shout at them, wanted to tell them to get off their pedestals, to treat Lucy with respect and not try to mould her into something she clearly wasn't.
Events always seemed to conspire against Lucy but her strength and resilience shone through and I spent the latter parts of the novel willing her to rise above and fight for herself and her family.
Pung's narrative is brilliantly compelling and her skill at writing purely from Lucy's point of view throughout simply stunning. Lucy's voice is distinctive, her character fantastically realised, the multiple layers slowly peeled back, to reveal her inner struggles and turmoil as she fights to rediscover herself.
Some events and parts of the novel may have been exaggerated for effect yet, there was a huge amount of realism, and a deeply personal examination of the main issues of racism, displacement and class. It was certainly an eye opener into the world of immigrants in Australia and the battles they have to face on a daily basis.
Lucy and Ling may be classed as YA, but would not be out of place on the adult fiction shelves, and I would highly recommend to all my friends and library customers.
Thank you to Imogen Harris and Legend Press for the opportunity to read and review and for inviting My Bookish Blogspot to participate in the blogtour.
About the author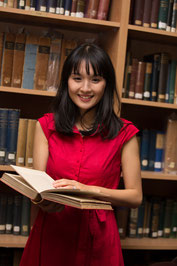 Alice Pung is an awardwinning Australian author whose books include Unpolished Gem, Her Father's Daughter and Laurinda. She has also written for the Guardian and the New York Times, among other publications.
The blogtour continues. Follow the other bloggers to discover their thoughts on Lucy and Linh.